It Follows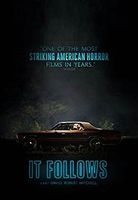 Directed by: David Robert Mitchell
Cast: Maika Monroe, Keir Gilchrist, Olivia Luccardi
Jay (Monroe) is a Michigan teenager whose lover reveals that he's infected her with a potentially deadly curse. Sensitive, visually arresting and utterly disturbing horror about the possible consequences of a sexual encounter, with a deeply affecting performance from Monroe and an excellent supporting cast.
Watch trailer
Performance times
Whilst every effort has been made to ensure the information displayed here is accurate, always check with the venue before attending (especially during the Covid-19 pandemic).
Midsummer in Detroit: teenager Jay (Monroe) gets serious with her new boyfriend – who then reveals that he's passed a curse on to her. She'll be followed, slowly but inexorably, by a shapeshifting creature until she is killed or passes the curse on. Her friends first assume she's merely traumatised, but then have to face the truth… Mitchell builds psychological tension with great skill, aided by Monroe's sympathetic performance, an ominous electronic score and sweeping outdoor photography – like Jay, you'll be nervously looking for 'it' at every moment!
Text supplied by third party.
It Follows (trailer)
Tell us more about this listing.