A Most Violent Year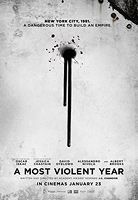 Directed by: JC Chandor
Cast: Oscar Isaac, Jessica Chastain, David Oyelowo, Alessandro Nivola, Albert Brooks
UK release: 23 January 2015
New York City, 1981: Abel (Isaac) is a businessman who's married into dirty money, but who's determined to remain legit even as his rivals are circling. Deliberately confounding the clichés of crime movies, Chandor controls the film with real poise. Isaac is compelling and intriguing, but Chastain steals the show as his swaggering, confident wife.
Watch trailer
Performance times
This film is not currently showing in cinemas.
In New York City 1981, an ambitious immigrant fights to protect his business and family during the most dangerous year in the city's history.
Jessica Chastain was Golden Globe nominated for her performance as Anna Morales, the Brooklyn-born wife of immigrant Abel – played by Oscar Isaac.
Text supplied by third party.
A Most Violent Year (trailer)
Tell us more about this listing.