Kingsman: The Secret Service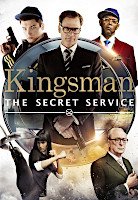 Directed by: Matthew Vaughn
Cast: Colin Firth, Samuel L Jackson, Mark Strong, Taron Egerton, Michael Caine
UK release: 29 January 2015
Website: www.kingsmanmovie.com
Eggsy (Egerton) is a streetwise petty criminal, who debonair secret agent Harry (Firth) inducts into Kingsman, a super-secret spy organisation going up against bonkers, lisping billionaire Richmond Valentine (Jackson). Egerton is confident and engaging, Firth is visibly enjoying himself, and despite the odd puerile joke it's riotously entertaining.
Watch trailer
Performance times
This film is not currently showing in cinemas.
Kingsman: The Secret Service (trailer)
Tell us more about this listing.