Still Alice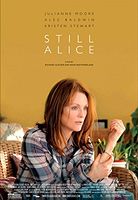 Directed by: Richard Glatzer, Wash Westmoreland
Cast: Julianne Moore, Alec Baldwin, Kristen Stewart
UK release: 6 March 2015
Alice Howland, happily married with three grown children, is a renowned linguistics professor who starts to forget words. When she receives a devastating diagnosis, Alice and her family find their bonds tested.
Performance times
This film is not currently showing in cinemas.
Reviews & features
Julianne Moore 'so happy' with Oscar win

23 Feb 2015
Film gossip
Julianne Moore is "so happy" she was crowned best actress at the Oscar Awards last night (22.02.15). The 54-year-old star was over the moon when she picked up the big win of the night for her portrayal of Dr. Alice Howland, who suffers from the…
Julianne Moore wins Best Actress BAFTA

9 Feb 2015
Film gossip
Julianne Moore has won the Best Actress prize at the British Academy Film Awards in London. The 54-year-old actress won the award for her performance as Dr. Alice Howland - a renowned linguistics professor at Columbia University in the US - in the movie…
Still Alice (trailer)
Tell us more about this listing.