Big Game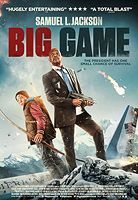 2014
Finland / Germany / UK
1h 50min
12A
Directed by: Jalmari Helander
Cast: Onni Tommila, Samuel L. Jackson, Felicity Huffman, Victor Garber, Ted Levine, Jim Broadbent, Ray Stevenson
UK release: 8 May 2015
When Air Force Once is shot down over Finland, the President (Jackson) escapes but finds that his only ally is a 13-year-old Finnish boy (Tommila) on a solo hunting trip. Cheerfully derivative action flick with Jackson well-cast as POTUS, while Tommila is refreshingly unpredictable. A pleasurable, undemanding B movie.
Performance times
This film is not currently showing in cinemas.
Reviews & features
Felicity Huffman joins Big Game with Samuel L. Jackson

24 Oct 2013
Film gossip
Felicity Huffman has joined the cast of Samuel L. Jackson's new action movie, 'Big Game'. The 'Desperate Housewives' actress and 'Alias' actor Victor Garber have joined the final weeks of the film's shoot in Bavaria, starring alongside Jackson and 'The…
Jim Broadbent joins Samuel L. Jackson in Big Game

11 Sep 2013
Film gossip
Jim Broadbent and Ray Stevenson will join Samuel L. Jackson in 'Big Game'. 'The Iron Lady' and 'G.I. Joe: Retaliation' actors will co-star in the new action adventure movie which stars Jackson as the president of the United States, who forms an unlikely…
Samuel L Jackson to play US President in Big Game

13 May 2013
Film gossip
Samuel L. Jackson will star in action movie 'Big Game'. The 'Avengers Assemble' actor will play the United States president in the flick, which centres on his character forming an unlikely friendship with a shy 13-year-old boy, who is trying to prove…
Big Game (trailer)
Tell us more about this listing.