Tomorrowland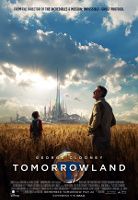 Directed by: Brad Bird
Cast: George Clooney, Britt Robertson, Hugh Laurie
UK release: 22 May 2015
Science-obsessed teenager Casey (Robertson) teams up with mysterious Athena (Cassidy) and child-genius-turned-grump Frank (Clooney) to unlock the secrets of a mysterious pin. Futuristic family adventure, refreshingly driven by two young women; Casey and Athena are inspiring heroes and the visuals are stunning.
Performance times
This film is not currently showing in cinemas.
Reviews & features
Origins of Plus Ultra: The Beginning
Origins of Plus Ultra: A New Tomorrow
Tomorrowland (trailer)
Tell us more about this listing.