Jane Got a Gun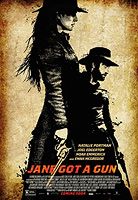 Directed by: Gavin O'Connor
Written by: Brian Duffield, Anthony Tambakis
Cast: Natalie Portman, Joel Edgerton, Ewan McGregor
UK release: 22 April 2016
When pioneer Jane (Portman) finds her husband (Emmerich) badly wounded, she teams up with old lover Dan (Edgerton) to defend herself and her hubby. A reportedly troubled production makes for an entertaining if conventional tale; Portman is sternly believable and it's at least a pony trek in the direction of the rousing feminist western we hoped for.
Performance times
This film is not currently showing in cinemas.
Reviews & features
Jane Got a Gun Official International Trailer
Tell us more about this listing.