Poltergeist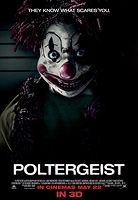 Directed by: Gil Kenan
Cast: Sam Rockwell, Rosemarie DeWitt, Kennedi Clements
UK release: 22 May 2015
Eric (Rockwell) and Amy (DeWitt), three kids in tow, move into a new house in a typical American movie suburb, and strange things start happening. Likeable performances (including Harris as a TV ghostbuster) can't rescue this remake of the Spielberg/Hooper 1982 original from being not very terrifying or thrilling.
Watch trailer
Performance times
This film is not currently showing in cinemas.
Poltergeist Official Trailer #1
Tell us more about this listing.