Kung Fu Panda 3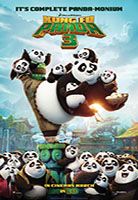 Directed by: Jennifer Yuh Nelson, Alessandro Carloni
Cast: Jack Black, Angelina Jolie, Dustin Hoffman, Lucy Liu, Seth Rogen, Jackie Chan, David Cross, James Hong, Randall Duk Kim, Rebel Wilson, Bryan Cranston, JK Simmons
UK release: 11 March 2016
When Master Shifu (Hoffman) retires, Po (Black) is nonplussed to be promoted to teacher-trainer; then demon water buffalo Kai (Simmons) starts raising a zombie army and Po is reunited with his dad (Cranston)! Black is as lovable as ever, and with the excellent cast, frantic action, sight gags, cute baby pandas and stunning effects, it's a pity the script is a bit humdrum.
Performance times
This film is not currently showing in cinemas.
News & features
Dustin Hoffman's Kung Fu Panda confusion

27 Jan 2016
Film gossip
Dustin Hoffman thought he voiced a raccoon rather than a panda in 'Kung Fu Panda 3'. The Hollywood actor reprises his role as Master Shifu in the upcoming computer animated comedy movie, but the 78-year-old star didn't even realise that his character…
Rebel Wilson joins Kung Fu Panda 3

10 Apr 2013
Film gossip
Rebel Wilson has joined the cast of 'Kung Fu Panda 3'. The 'Bridesmaids' actress will join original cast members Jack Black, Angelina Jolie, Seth Rogen and others to voice a character in the upcoming Dreamworks Animation caper, according to The…
Kung Fu Panda 3 (trailer #1)
Kung Fu Panda 3 (trailer #2)
Tell us more about this listing.