Rampage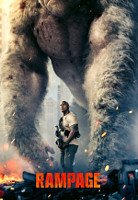 Directed by: Brad Peyton
Cast: Dwayne Johnson, Naomie Harris, Malin Åkerman, Joe Manganiello, Jake Lacy, Marley Shelton, Jeffrey Dean Morgan
UK release: 13 April 2018
When a space-born pathogen starts turning random animals dangerous across the USA, primatologist Davis (Johnson) is on the case. Splendidly silly monster movie which swerves between knowing humour, endearing stupidity and an over-long CGI-heavy finale; Morgan's turn as a gung-ho Homeland Security agent is a hoot.
Performance times
This film is not currently showing in cinemas.
Reviews & features
Rampage (trailer)
Tell us more about this listing.