Spotlight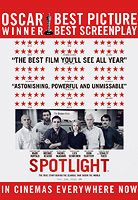 Directed by: Tom McCarthy
Cast: Rachel McAdams, Mark Ruffalo, Michael Keaton
UK release: 29 January 2016
McCarthy's tale of how the Boston Globe's investigation team unearthed cases of sexual abuse and cover-ups within the Catholic church is up there with All the President's Men, with a fine cast (Keaton, McAdams, Ruffalo, Tucci) serving a nuanced, complex script: no one, except the victims, is entirely blameless. Remarkable.
Watch trailer
Performance times
This film is not currently showing in cinemas.
Spotlight Trailer
Tell us more about this listing.