Sherlock: The Abominable Bride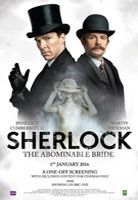 Cast: Benedict Cumberbatch, Martin Freeman
UK release: 1 January 2016
Christmas special of the BBC series starring Benedict Cumberbatch and Martin Freeman. The episode is mostly an original story inspired by a reference in one of the Conan Doyle stories to a case that Dr Watson never wrote about and is set in Victorian, rather than contemporary, London.
Watch trailer
Performance times
This film is not currently showing in cinemas.
Sherlock: The Abominable Bride (extended trailer)
Tell us more about this listing.