Bone Tomahawk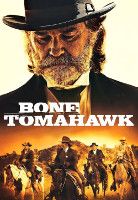 Directed by: S. Craig Zahler
Cast: Kurt Russell, Patrick Wilson, Matthew Fox
This blood-soaked western horror hybrid tells the story of four men (Russell, Jenkins, Wilson and Fox) who aim to rescue a group of captives from cannibals. There is razor-sharp tension throughout, and while it is spooky, it is also darkly humorous, ultimately delivering much more than just waves of disgust.
Watch trailer
Performance times
This film is not currently showing in cinemas.
Bone Tomahawk (trailer)
Tell us more about this listing.