Apocalypse Now Redux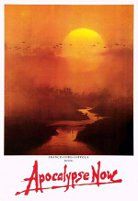 Directed by: Francis Ford Coppola
Written by: Novella:, Joseph Conrad, Screenplay:, John Milius, Francis Ford Coppola
Cast: Martin Sheen, Marlon Brando, Robert Duvall, Frederic Forrest, Laurence Fishburne, Dennis Hopper, Harrison Ford, Albert Hall, Sam Bottoms, Aurore Clement, Christian Marquand
Coppola's new, longer cut of his Vietnam war masterpiece includes more of Duvall's crazy chopper commander Kilgore, a second encounter with the Playboy Bunnies, a new sequence set on a remote French plantation adding historical background and Brando expounding upon the insanity of war. It isn't an improvement, but considering the circumstances under which it was filmed - in the Philippines where everything from hurricanes to heart attacks plagued the cast and crew - you want to see everything they got on film.
Performance times
This film is not currently showing in cinemas.
Tell us more about this listing.