Fences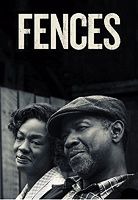 Directed by: Denzel Washington
Cast: Denzel Washington, Viola Davis, Stephen Henderson
UK release: 10 February 2017
Troy ( Washington) is a proud, tight-fisted, ageing working stiff in 50s Pittsburgh, full of bitterness that God, poverty and segregation ruined his youthful dreams of sporting success. Beautifully shot family drama, superbly acted (especially by Washington and Davis), but it suffers a bit from heavy self-importance and a long running time.
Watch trailer
Performance times
This film is not currently showing in cinemas.
Fences Trailer
Tell us more about this listing.