Viceroy's House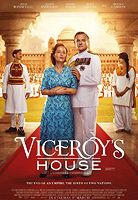 2017
UK / India
1h 46min
12A
Directed by: Gurinder Chadha
Cast: Gillian Anderson, Michael Gambon, Hugh Bonneville, Manish Dayal, Huma Qureshi
UK release: 3 March 2017
Lord Louis Mountbatten (Bonneville) is to oversee Britain's withdrawal from India and the ensuing partition, but he and his wife Edwina (Anderson) witness the violence erupting through the country. A below-stairs romance between Dayal and Qureshi is frustratingly insipid and the Indian characters are all unforgivably poorly drawn. Despite some good acting, timid and inert.
Watch trailer
Performance times
This film is not currently showing in cinemas.
Viceroy's House Trailer
Tell us more about this listing.