Enactone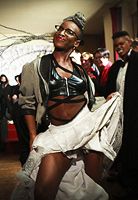 Directed by: Sky Deep Dietrich
After suffering a wrongful death in 1914, former US slave, Marie Scott became a vampire and gained a second chance to live forever and gain vengeance. But her extended life comes with consequences that must be accounted for.
Performance times
This film is not currently showing in cinemas.
Tell us more about this listing.