Possession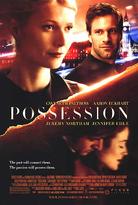 Directed by: Neil LaBute
Written by: David Henry Hwang, Laura Jones, Neil LaBute, A S Byatt (novel)
Cast: Aaron Eckhart, Gwyneth Paltrow, Jeremy Northam, Jennifer Ehle
Language: English, French
Adapted from AS Byatt's Booker Prize-winning novel, Possession takes place in two time-frames. In present-day London, lowly university researcher Roland Michell (Eckhart) and brilliant feminist don Maud Bailey (Paltrow) are thrown together by the discovery of a cache of letters that suggest that two Victorian poets - Randolph Henry Ash (Northam) and Christabel LaMotte (Ehle) - were secret lovers. But as the academics pursue a series of clues, their own experiences begin to echo the 19th-century lovers. While LaBute can't hope to replicate the pleasures of the page, he does bear out Byatt's sly thesis that her Victorian couple were less hung-up about love and sex than their angst-ridden modern counterparts.
Performance times
This film is not currently showing in cinemas.
Tell us more about this listing.