Atomic Blonde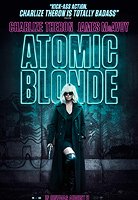 Directed by: David Leitch
Cast: Charlize Theron, James McAvoy, John Goodman, Sofia Boutella,
UK release: 9 August 2017
Lorraine Broughton (Theron) is an MI6 agent tasked with finding a list of double-crossing agents, aided by dodgy fellow spy David (McAvoy) as she kicks the arses of an army of foes in 1989 Berlin. Basically a showcase for Theron's sparring ability and withering looks, it features authentically exhausting fights and is a shamelessly derivative but fun actioner.
Watch trailer
Performance times
This film is not currently showing in cinemas.
Atomic Blonde Trailer
Tell us more about this listing.