Kill Bill: Volume 1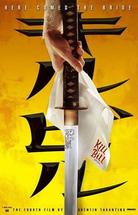 Directed by: Quentin Tarantino
Written by: Quentin Tarantino
Cast: Uma Thurman, Lucy Liu, Vivica A Fox, Daryl Hannah, David Carradine, Michael Madsen, Julie Dreyfus
A long time in the coming, Tarantino's two-part martial arts sword fighting epic gets off to a roaring rampaging start with Vol 1. Tarantino wears those influences on his sleeves: Chinese/Japanese martial arts flicks, blaxploitation and anime. Something of a departure from his previous films in that there is no smart era-defining dialogue here, just glorious, bloody, driven narrative. A must for anyone with a passion for the left field, low budget joys of people like Argento, Jodorowsky and any of the directors who came out of the Shaw Brothers studios in the 70s.
Performance times
This film is not currently showing in cinemas.
Tell us more about this listing.