Den of Thieves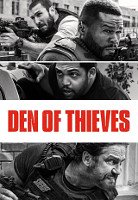 Directed by: Christian Gudegast
Cast: Gerard Butler, 50 Cent, Pablo Schreiber, O'Shea Jackson Jr., Evan Jones, Dawn Olivieri, Mo McRae, Max Holloway
An elite unit of the LA County Sheriff's Department crosses paths with the state's most successful heist crew. There are plenty of twists, and writer-director Gudegast makes a reasonable job of the robbery and shoot-out, but it's too clearly in thrall to Michael Mann's Heat, and Butler is no Pacino.
Watch trailer
Performance times
This film is not currently showing in cinemas.
Den of Thieves (trailer)
Tell us more about this listing.